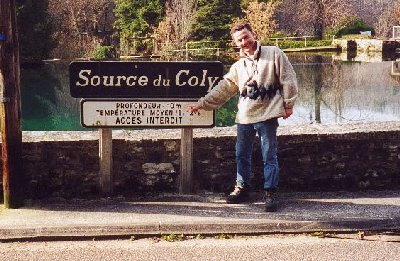 Click on the links below
New Since July 2004
More additions to the Hall of the Not So Famous. A report on Rebreatherfest 2004, an impromptu gathering of low life and wasters who have nothing better to do than dive on odd rebreathers. I got some underwater photographs from our May expedition so I have updated the trip report to north-east France. Having absolutely no money left after three expeditions in six weeks it will probably be a while before anything exciting goes on here.
New Since June 2004
Reports of two expeditions with Dr Jerome Meynie, to north-east France in May and to Port Miou in June. A few more rogues have been added to the Hall of the Not So Famous. A new version of XS with updated rebreather functionality is added.
New Since May 2004
Recently added is the Palm OS version of XS using the M11F6 algorithm by Dr RW "Bill" Hamilton. The BQX MkV has been completed and dived, a review is here. Also some pictures from a recent wreck diving trip to the Sound of Mull.
New Since October 2003
Work has started on the newest version of the BQ rebreather series, the BQX. This is a closed-circuit mixed gas rebreather, and so far the scrubber has been built and tested, the loop and DSV are in construction and a number of oxygen addition systems are being looked at. Read about it here. I have also began a Masters degree at Cranfield University in Offshore & Ocean Technology, Diving & Underwater specialisation. The new version of the Cave Diving Guide to Eastern France is finished and ready to order too -- please note an address change for UK orders. Finally, I've put together a bit of a rogues gallery, the Hall of the Not So Famous.
New Since August 2003
Just returned from an excellent research trip to Cote d'Or, Doubs, Jura and Switzerland with plenty of notes for the new version of the book. Click here for a report and photos of the trip. Also, the latest version of XS is ready for download. There has been considerable revisions since the last update, it is now fully closed-circuit compatible and after doing test dives for the last few months I have changed the algorithm to the Hamilton Research M11F6 model. Next potential entrant for Stuart's Car Graveyard is a 1993 4.0 Jeep Cherokee with LPG conversion (by Panache Autogas of Ardwicke, Manchester) as shown below during dives at the Vallorbe showcave in Switzerland. The BQ50 is safely in my diving kit museum and design is underway on a closed-circuit mixed gas rebreather.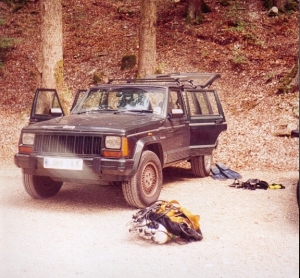 New Since January 2003
The "Cave Diving Guide to Eastern France" is now ready to buy, just in time for the diving season. 80+ cave sites ranging from the Belgian border, down past Switzerland and Italy to the Mediterranean coast. No rat holes or filler, all good sites. And yes, the car picture is now out of date, since then the Shogun died in a lay-by near Grenoble and was towed to a field in the Ardeche where it is now doing good service as a chicken hut. Replaced by the world's most reliable car, a Subaru Legacy Outback, 2.5L AWD, neck snappingly fast. World's most reliable car burst into flames south of Glasgow in January 2003. Coming soon, Stuart's Car Graveyard. And the BQ50? Worked very nicely as a deco O2 rebreather, serving well for a 40min 6m stop in Loch Ness and in Dorothea. As Frank Drebin said, I take a risk every time I open the fridge door... development may be suspended fo a while...
New Since June 2002
The BQ50 rebreather is under development. The concept behind it is initially as an oxygen rebreather for decompression purposes on expeditions where the amount of gas that can be transported is limited. Ultimately, its design allows for it to be converted into a semi-closed circuit rebreather. And the name? BQ in tribute to where all the parts came from (B&Q) and the '50' represents its budget -- fifty pounds (UK). Click here to visit its home page.
New Since September 2001
The summer's expedition to the Herault, Ardeche and Lot in France which took up all of July seems like a distant memory, as soon as time slows down a little I will upload the dive reports and pictures.
And finally... XS for Windows VPM Version is finally ready. Click here for a copy of the demo.

New Since May 2001
There have been two new additions to the Lizardland family...